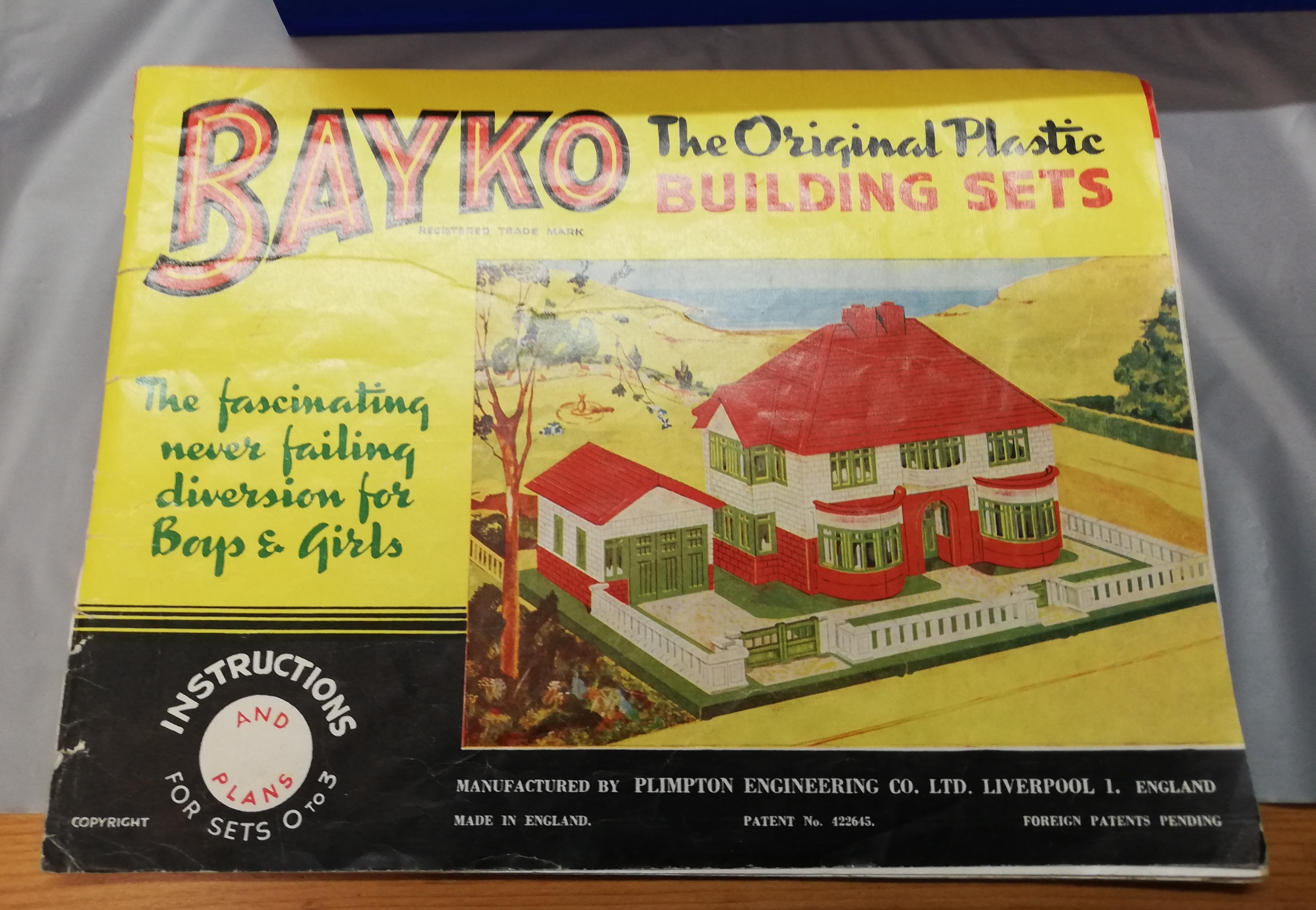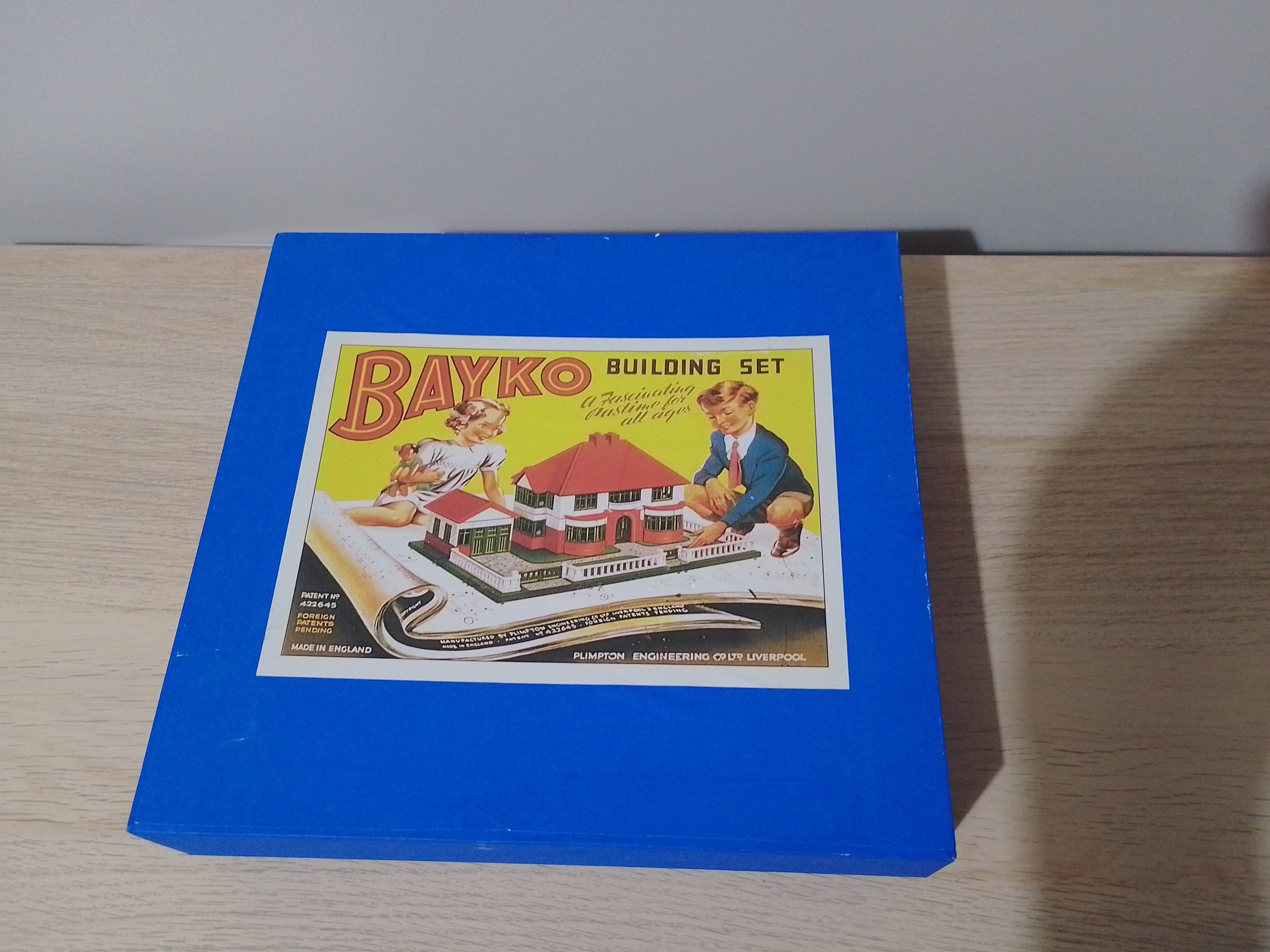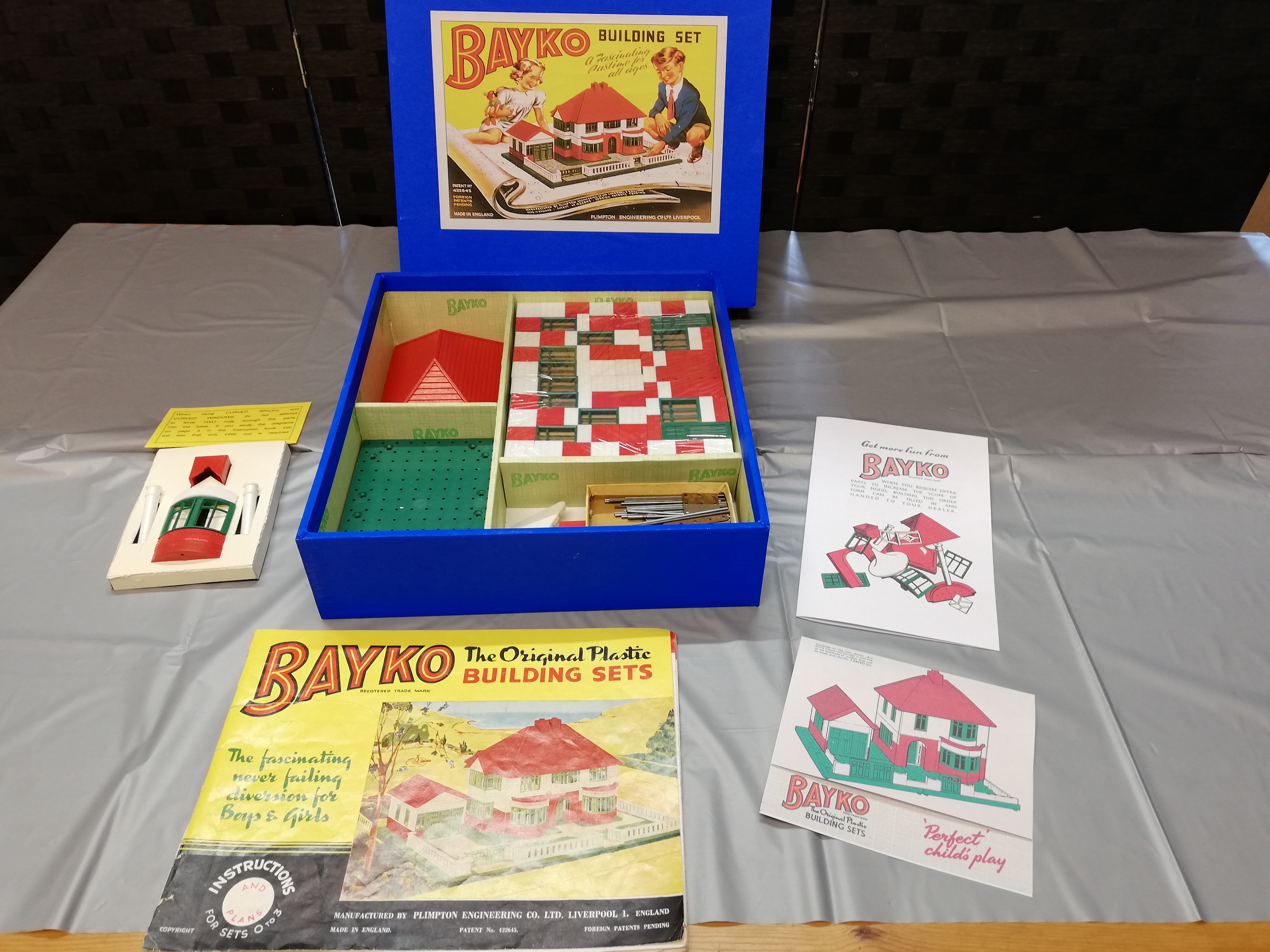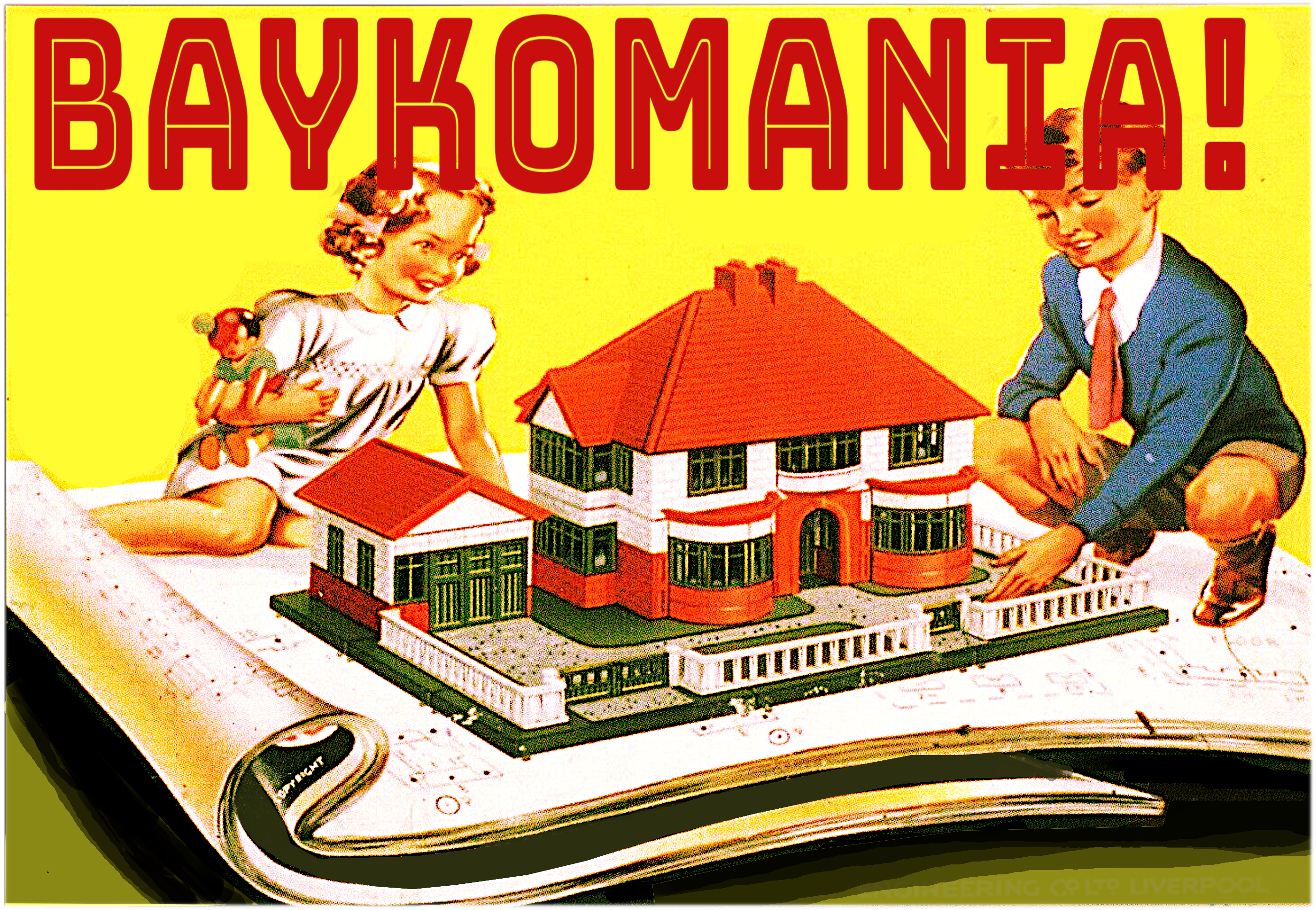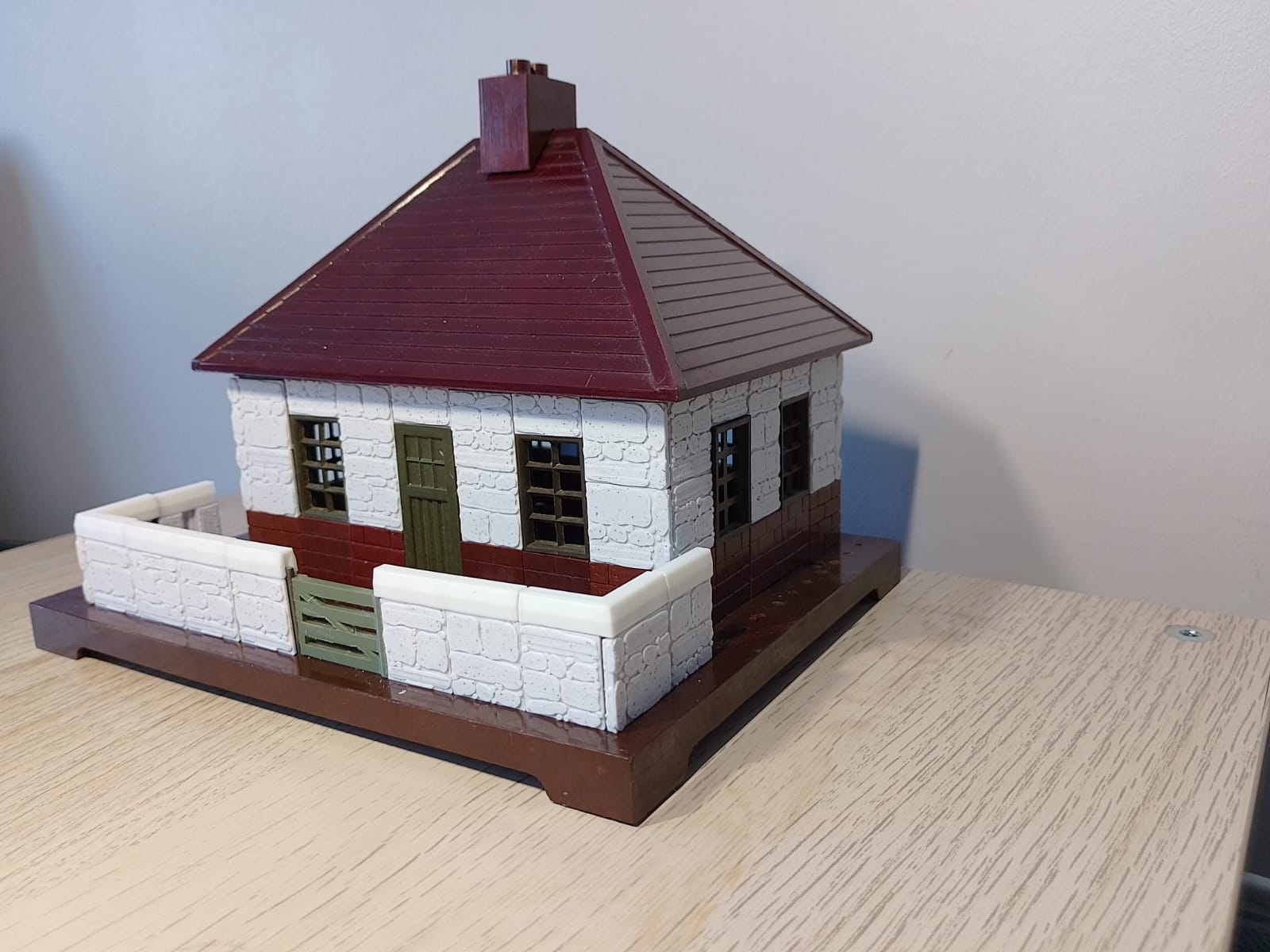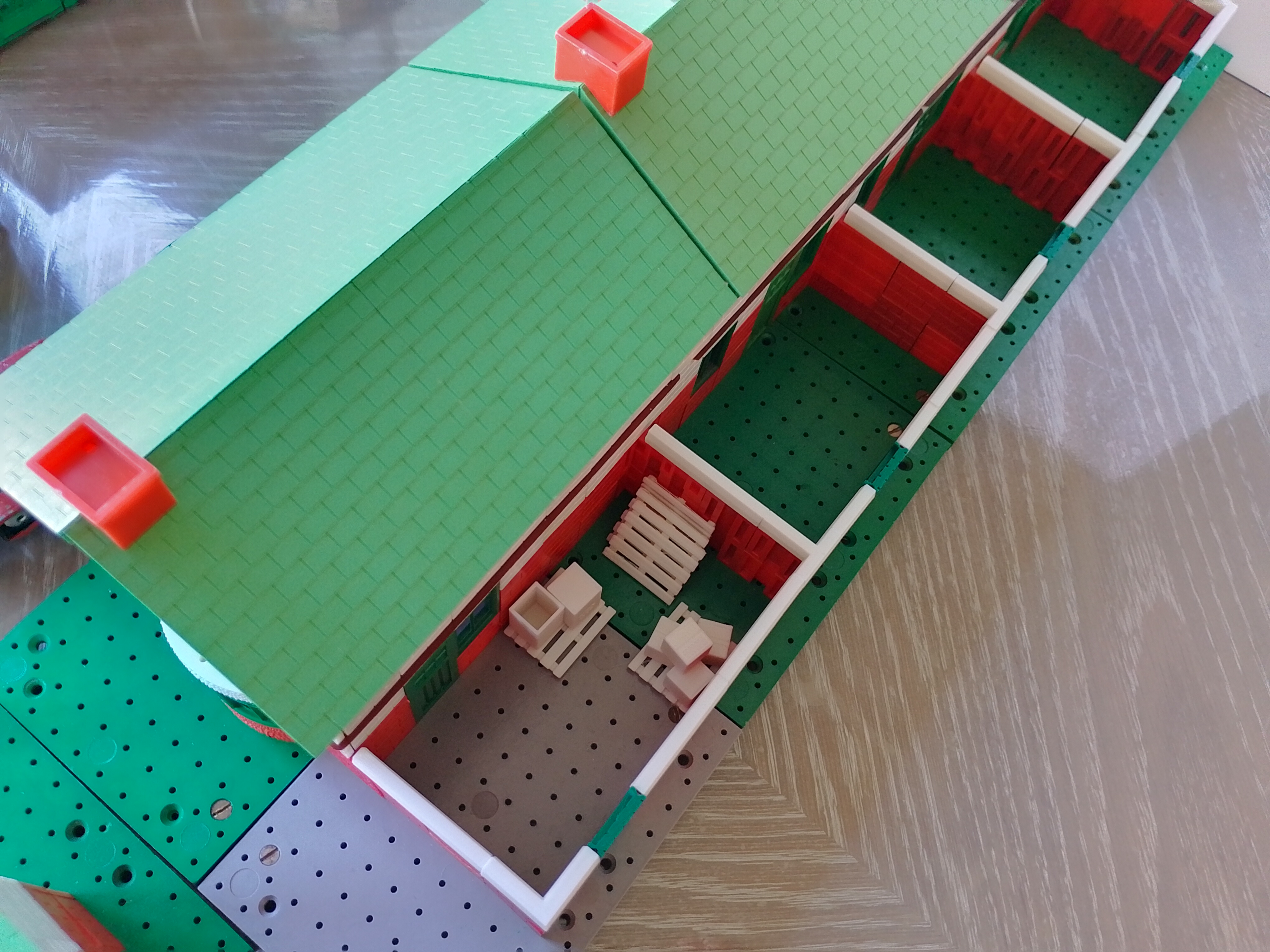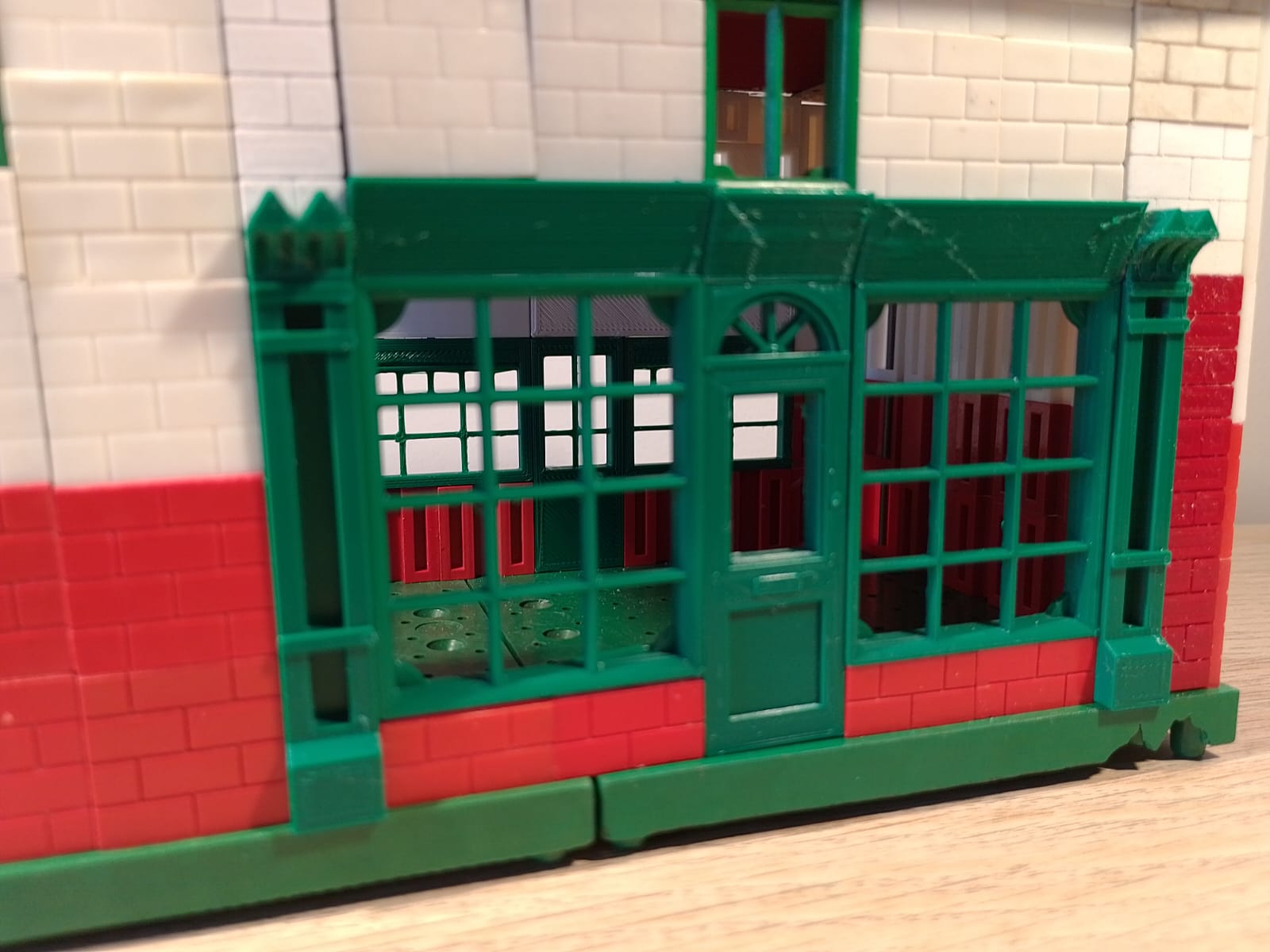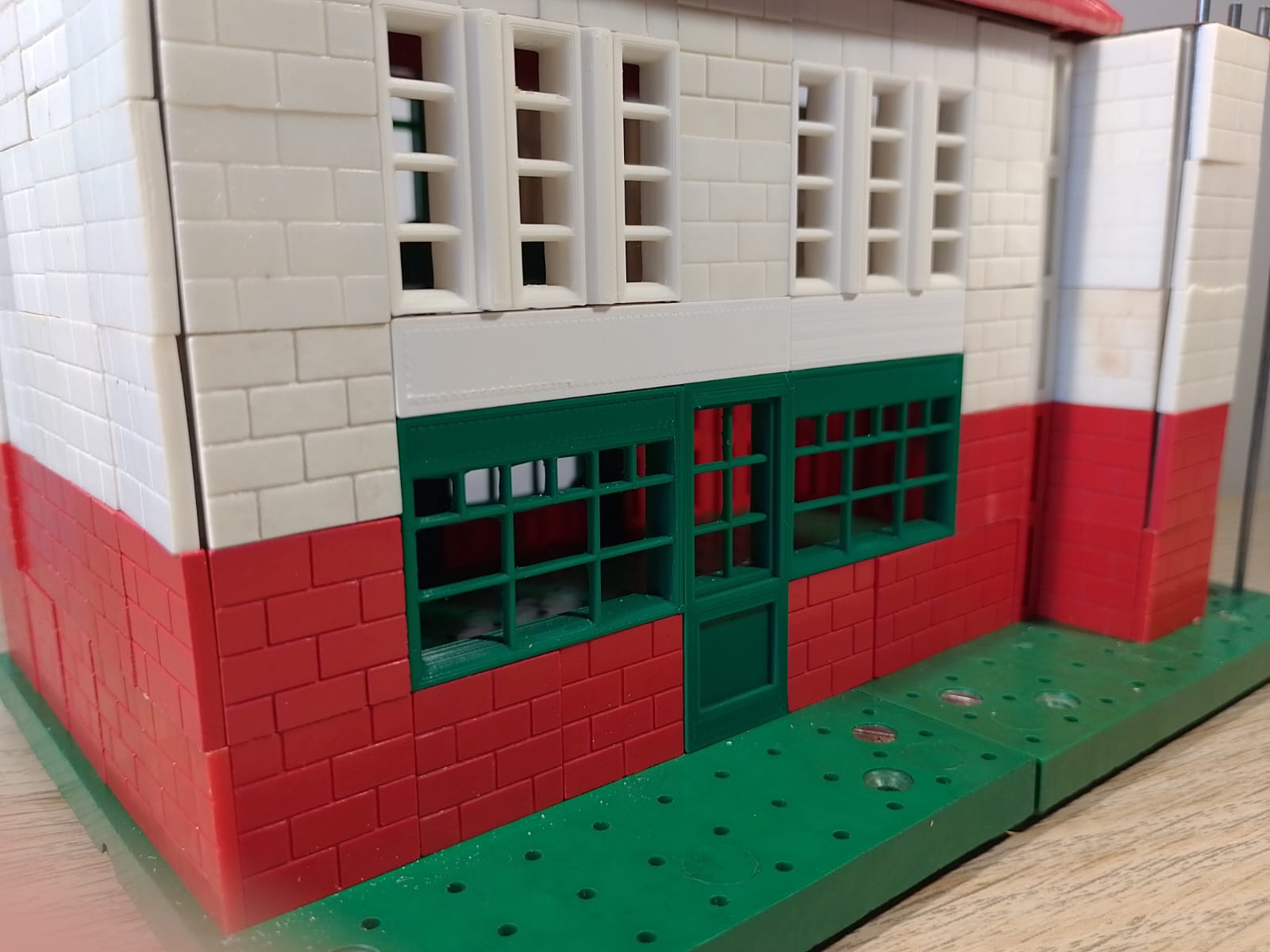 Welcome to Baykomania - A website for collectors of Bayko Building Sets looking to enhance and extend their building possibilities. Bayko is well suited for building dioramas to show off your Corgi collection. It is also fun to build with.

Here you will find ideas for your projects, but I also offer brand new Bayko compatable parts with which to add and extend your collection. Please check out the shop.
I now offer plans free of charge for you to try out with your Bayko collection. While the plans require some extended parts, you can still build most with your existing collection. Try them out!
Please browse my gallery. Access to my catalogue and shop is above
Bayko was a model construction toy produced by Charles Plimpton in 1930s until mid 1960s.
Originally manufactured in brown and white Bakelite, the parts went through some colour changes throughout it's lifetime. Production was stopped during the second world war, but started up again shortly after the war ended. The product was sold to Mecanno after Charles Plimpton's death. Production finally ceased in the mid 1960s.
Originally, Bayko allowed the young builder to build a variety of houses. Unfortunately, the scope for commercial buildings was very limited. Meccano did try to expand the possibilities by including a shop window in one of its sets.
Here are a variety of compatible parts I have made using a 3D printer. While I have tried to keep the colours as close as possible to the original parts, there are some colour differences.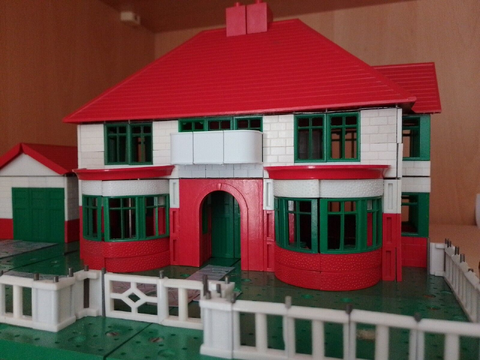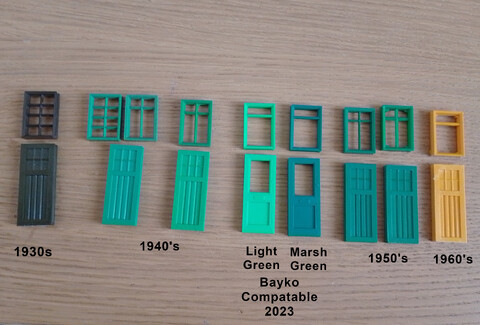 Colour Changes in Bayko
Here you can see the various colours Plimpton Engineering and Meccano used. In the middle are doors and windows made on a 3D printer. Some parts are also available in white.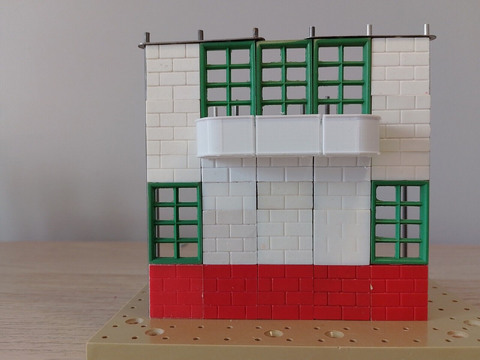 Bayko Compatible Balcony Set (low railing)
Although the balcony was displayed on older manuals, and some rare examples are in circulation, they apparently never went into production.
The balcony rail is just over half a brick height, which matches the original. See also my other listing for a taller railing.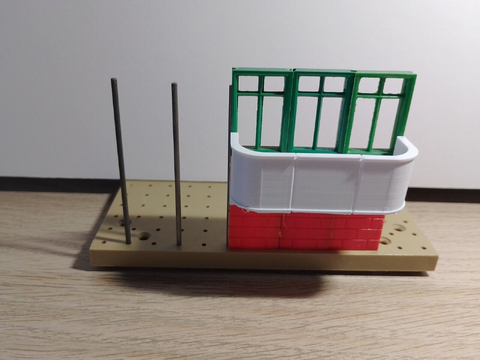 Balcony set (high railing) for Bayko models.
Another version of the original balcony. The balcony railing is one brick high, which is higher than the original (half brick height).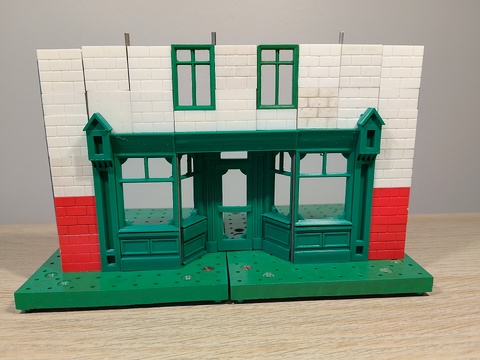 Bayko Compatible Victorian Shop Front
Here is a lovely Victorian Shop front complete with glazing lugs for the builder to expand his collection with.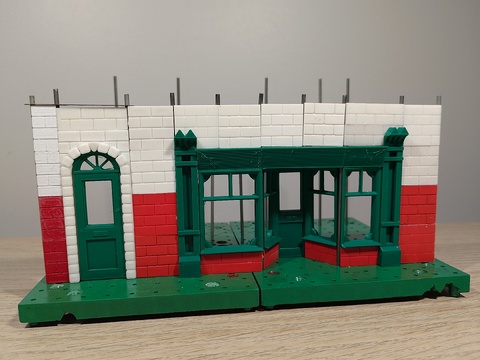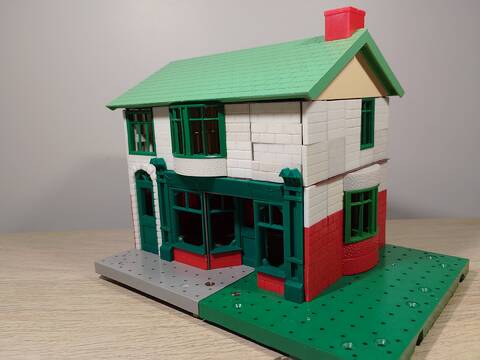 Classic Corner Shop
Build a classic style corner shop front with recessed entrance and decorative side posts. The kit also includes a decorated 'stone' surround front door. Bridging pieces across the front allow rods to be placed so the builder can continue building above the shop front.
The windows have glazing lugs and are ready to be completed with glazing material. The front door is in two parts - use either both or just the door alone. Door and surround simply slide together to make an effective doorway that will enhance any model.
I also include plans to build the illustrated corner shop. All you need to add are regular Bayko parts from your own collection.
Village shop windows
These 2-brick wide windows with a matching door can be used to build a small shop front for your village square. The windows in the first floor have a mullion between the windows, adding to the village look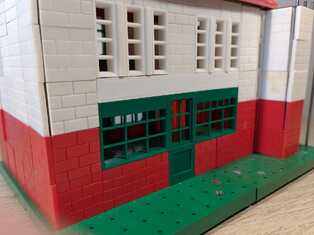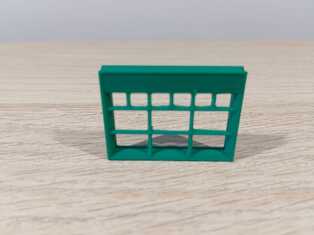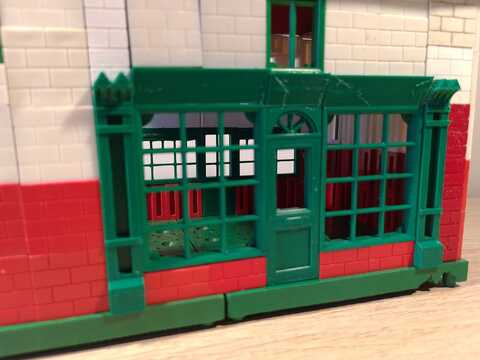 These 12-pane shop windows make an alternative to the above small shop windows
2-brick wide and 2-brick high, these make an attractive front when used together with the victorian stile side pillars and signage.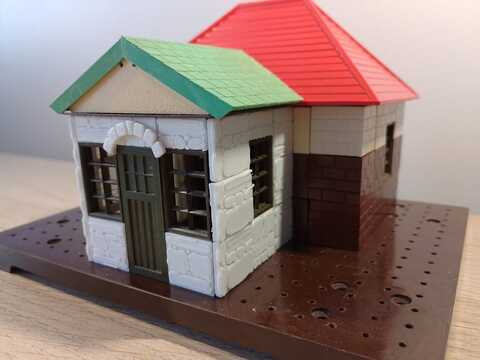 The tiles are printed in off-white matching the door arch.
Stone Effect Tiles
A nice extension are these stone effect tiles which add an attractive feature to any house. There are four different designs to the tiles to give the illusion of random stonework. Here the stones make an entrance porch to a small house using original pre-WW2 Bayko door and windows.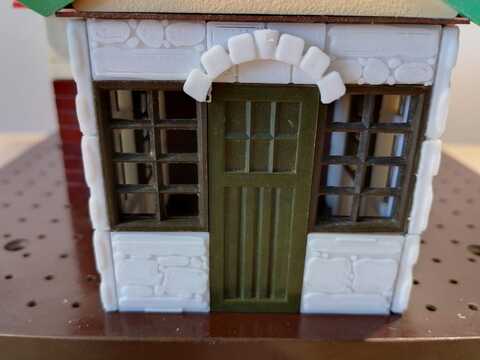 Here the tiles used for my first prototype - a stone cottage.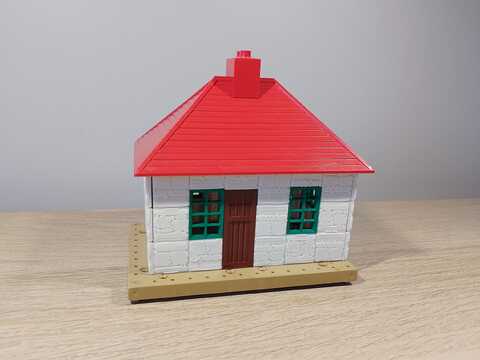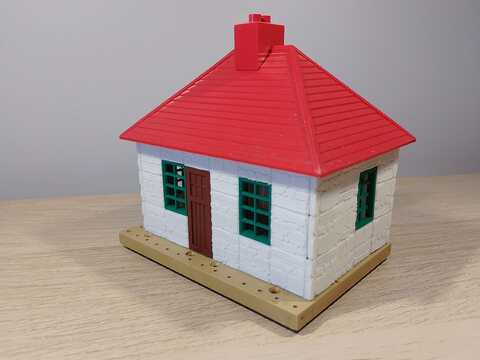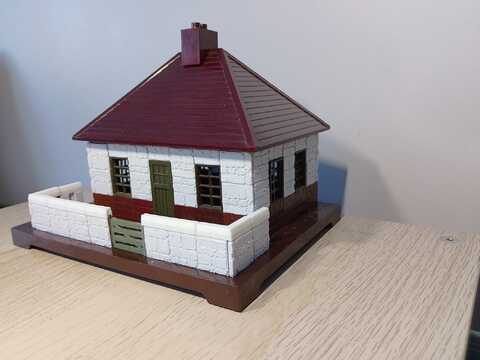 Stone and Brick Cottage
Stone and brick cottage using my new stone tiles together with original pre WW2 bricks.
Stone wall has wall capping to finish it off.
Assortment of new stone tiles. If you look carefully you can see the stone effect speckled with darker colour to add to the effect.
Now Available in my shop!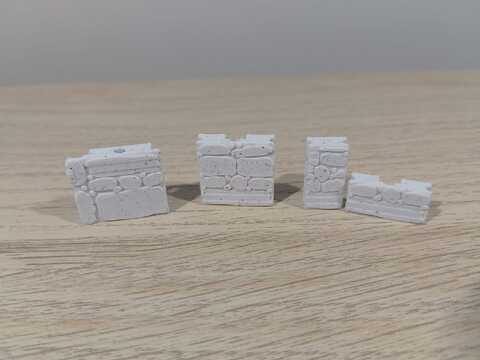 Thatched Cottage
Stone cottage as above, but with first try at a thatched roof and stone chimney. Has some flaws, but next attempt will be better..